প্রকাশিতঃ ৩০/০৭/২০১৮ ১৮:৩৯ পঠিত সংখ্যাঃ
Staff Repoter :: Technology company Dell introduced a new series of gaming laptop for gamers who seek to perform excellence. The high-configured laptop series was launched officially in Bangladesh on Monday as the company unboxed the Windows 10 – enabled computer of Dell G-7 15 System.
National Women Cricket Team Vice-Captain Jahanra Alam and Dell Country Manager Md. Atiqur Rahman jointly unveiled the computer at a function at a Dhaka hotel on Monday night. Dell officials informed that the new series of Dell G has been launched after getting a 'good response' on Inspiron gaming series. The series aim to reach all classes of gamers with affordable price segment.
The officials also informed that the new laptop series is contributed specially for making of the new movie 'Ant man and the Wimp' by Marvel Studios. The laptop supported the researchers to analysis the shots of the film.
There is introduced eighth generation processor of intel core series and graphics processing unit of Nvidia Geforce GTX10 series. Besides, there are automated heat control systems as well other gaming related feature.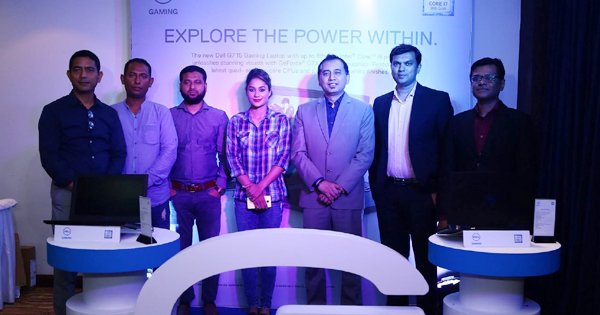 Dell G7 7588:
he machine is equipped with latest Intel processors for multi-core applications. The GTX 1060 with Max-Q design technology could be better with GTX 1060 but due to its slim design; a Max-Q design was needed. Dell G7 7588 comes with a super 6GB GDDR5 video memory (VRAM) for better and lag-free gaming experience.
Dell G7 7588 base model comes with Intel Core i5-8300H, 8GB 2666MHz RAM that can be maximized to 32GB. There are two slots for RAM. There is no pre-installed SSD and only 1TB HDD is installed with 8GB Cache.
The laptop is integrated with two tuned front firing speakers by Waves MaxxAudio Pro to improve clarity. The touchpad got windows precision drivers with a plastic surface.
This laptop has excellent control in temperature. After testing the laptop's processor for twenty minutes, this processor's TDP is about 45W, and the graphics card's frequency is around 1200MHz. In general, this laptop has excellent heat dissipation performance. The laptop has hit market with two colors of Lycoris Black and Alpine White.
BDPressRelease/SHS/31 July 2018
---