প্রকাশিতঃ ২৭/০৮/২০১৮ ১৬:০৬ পঠিত সংখ্যাঃ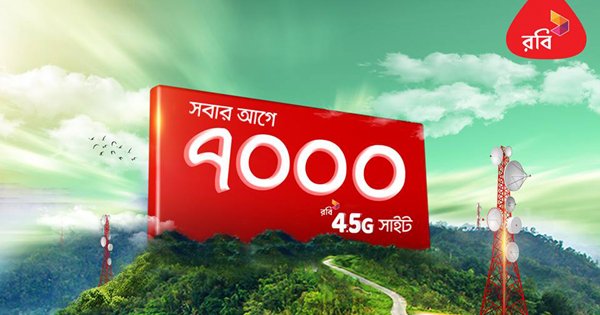 Staff Repoter :: The leading digital service provider of the country, Robi, has created by far the largest 4.5G network of the country with 7,000 4.5G sites, covering 532 out of 544 thanas of the country. This means that two out of every three citizens of the country now have access to Robi's 4.5G network. On the back of this impressive achievement, the company released its financial results for the second quarter (April- June) of 2018 today.
Having launched 4.5G network in all the 64 districts, Robi had on-aired 6,100 4.5G sites by the end of second quarter of 2018. By that time, Robi's subscriber base reached 44.7 million, representing 29.6% subscriber market share.
Compared to the second quarter of last year, the company witnessed overall service revenue growth of 6.6% in the second quarter of this year- driven by encouraging growth of 30% (YoY) in data revenue; although, the company's voice revenue declined by 4.2%. Having the largest 4.5G subscriber base also helped the company stimulate growth in data revenue.
At the same time, EBITDA increased by 56.5%, YoY, amounting to 4.2 billion taka with a margin of 25.3%. However, due to continuous investment in nationwide 4.5G network expansion and capacity enhancement coupled with increased borrowing rate in the market, Robi incurred a loss of 444 million taka.
Viewed from the perspective of QoQ (Q1 2018 Vs Q2 2018), Robi's revenue grew by 1.6%, mainly due to data revenue growth of 5.1%. However, due to Ramadan, voice revenue decreased by 1.6% (QoQ). EBITDA margin improved by 3.7 percentage point (QoQ) to reach 4.2 billion taka, despite higher investment for 4.5G related network costs and promotional activities.
The continued aggressive investment to fast-track its 4.5G network expansion and improve its 3.5G/2.5G network quality has raised Robi's total CAPEX investment figure to 222.1 billion taka since the company's inception. Only in second quarter of 2018, the company had made CAPEX investment of 5.5 billion taka. At the end of the second quarter of 2018, the sustained investment has helped the company to extend its network coverage across the country with 10,894 sites, out of which 6,100 were 4.5G sites. By the middle of August 2018, total number of 4.5G sites reached 7,000.
Commenting on the company's progress in the second quarter of 2018, Robi's Managing Director and CEO, Mahtab Uddin Ahmed said: "The impact of creating the largest 4.5G network was clearly visible in Q2 2018, as it helped us to ramp up our data revenue growth. Our customized product offerings catering to seasonal customer demands also helped. For example, our sport entertainment app, "My Sports", being the only licensed broadcaster of the recently concluded football world cup had created much excitement among our users across the country, who latched on to Robi's largest 4.5G network to enjoy LIVE matches on their smartphones, on the go.
"Furthermore, Robi's Ramadan offer, 'Noor' app- the first of its kind Islamic app with unique features such as Hajj tracking, Zakat payment and an E-store, had appealed to the religious fervour of the holy month of Ramadan. These innovative digital services and products are very much in line with Robi's vision of becoming a digital telco," he added.
In Q2'2018, the company contributed 6.6 billion taka to the Government Exchequer. Since inception in 1997, Robi has paid more than 225.7 billion taka to the Government Exchequer while for the same period remitted only 2.9 billion taka as dividends to its shareholders.
BDPressRelease/SHS/27 August 2018
---