প্রকাশিতঃ ০৭/১০/২০১৮ ১৯:২৫ পঠিত সংখ্যাঃ
Staff Repoter :: A workshop titled 'TP-link Workshop on FTTX and Wireless Broadband 2018' organized by the Local Broadband Network Owners Society was held on 4th October at the 3D Hall room of Farmgate Krishibid Institute in the capital.
On that day long workshop there were 8 sessions and various activities. Workshop was held in the presence of representatives of nearly 250 local broadband network operators across the country. The technical aspects of FTX and Wireless Broadband Technology are presented to everyone present in the technical session.
In the workshop, the President of the Local Broadband Network Owners Society, Fuad Mohammad Sharfuddin said, "We, local broadband network owners, are working as the main arsenal to deliver the broadband connection that works as the main appliance to build digital Bangladesh. In the beginning of the 21st century, we started the process of providing broadband services in other areas of Bangladesh including Dhaka as a profession of educated gentlemen by creating our self-employment resources.
Providing broadband services and maintenance of its network are information and communication technology based activities. For the management of this service, it is very important for the local broadband network owners and officials/employees working in their organization to acquire practical knowledge about the technical aspects and application of new and modern technologies.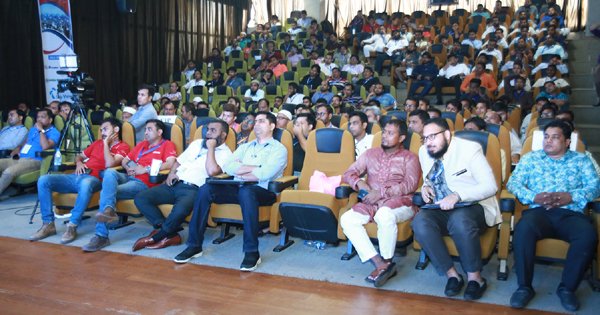 Mr. Mohammad Alamgir Hossain, general secretary of the Local Broadband Network Owners Society said that, the day long workshop titled 'Workshop on FTTX and Wireless Broadband 2018' was organized by the Local Broadband Network Owners Society. The rapid economic growth of the country depends on the increase in investment and human resources development. Broadband service is an important part of the forming digital Bangladesh. This workshop will specially contribute to the development on this sector to increase the quality of services and to create skilled manpower.
Senior Vice President of the organization Humayan Ur Rashid Sumon, Vice-President Ruhul Amin Khan, Joint general secretary Raisul Islam, Anisur Rahman, Treasurer Moshiur Rahman Anu, Organizing secretary Ashiqur Rahman, co-organizing secretary Jamal Hossain, information and communication Technology Secretary Maruf Al Moin Uddin and many others were present at that workshop.
Excel Technologies Limited was the title sponsor of the workshop. Apart from this, Provident Technology, Integra Technologies, Sky View, Sadia Enterprise were Gold sponsors and Ara Technologies, Rasa Technologies, South Bangla Computers were silver sponsors.
BDPressRelease/SHS/7 October 2018
---