প্রকাশিতঃ ১৯/০৬/২০২৩ ১২:৩৮ পঠিত সংখ্যাঃ
Staff Repoter :: itel, the global leading smart life brand committed to provide affordable and quality consumer electronic products boasting excellent user experience, has officially launched its first-ever color-changing smartphone S23, which is a perfect combination of premium design and reliable features through large memory efficiency and smooth using experience.
itel is very confident to bring users a highly fashionable smartphone with color-changing rear panel. itel S23 white edition features a photochromic layer on the rear because of which it automatically changes color from mystery white to dreamy pink under sunlight or UV rays. Its exquisite design and the 3D composite panel ablaze with liveliness and beauty, helps to show your classy style.
itel S23 comes with 6.6″ HD+ waterdrop display, achieving 91% screen-to-body ratio. Its 90Hz high refresh rate brings an excellent fluent viewing and 120Hz responsive touch rate can give users a more seamless experience when scrolling or playing games.
Setting a benchmark in specifications, the itel S23 offers two variants that cater to diverse user preferences. The segment-first 8 GB RAM variant, combined with 8GB Memory Fusion, delivers an impressive total of 16GB RAM, ensuring seamless multitasking and efficient storage. For those seeking a more compact option, itel offers a 4GB RAM variant with 4GB Memory Fusion, resulting in a total of 8GB RAM, providing ample space for apps, media files, and smooth performance. Both variants of the itel S23 come with 128GB of storage, enabling users to store over 30,000 photos along with their favorite apps and media files.
For battery life, the pre-embedded 5000mAh sizable battery, combined with Type-C charging, can support up to 15 hours of social media feeds and 112 hours music playback time.In terms of shooting functions, 50MP rear camera allows you to take each image with incredible details, vivid color, and stunning clarity. What's more, it carries out various of shooting modes, including super night mode, ultra HD mode and Advance HDR mode, help you become your own director of your life.
itel S23 lies the powerful Tiger 606 Octa-core Processor, guaranteeing smooth gaming performance and a seamless user experience. Additionally, the device incorporates a Super-Fast & Secured Side Mounted Fingerprint Sensor and Face unlock, ensuring quick and secure access to the device.
With its sleek design and slim 8.4mm body, the itel S23 is a fashion statement in itself. Available in two captivating color variants, Mystery White and Starry Black, users can choose a style that reflects their personality. It's important to note that the color changing feature is exclusive to the Mystery White variant.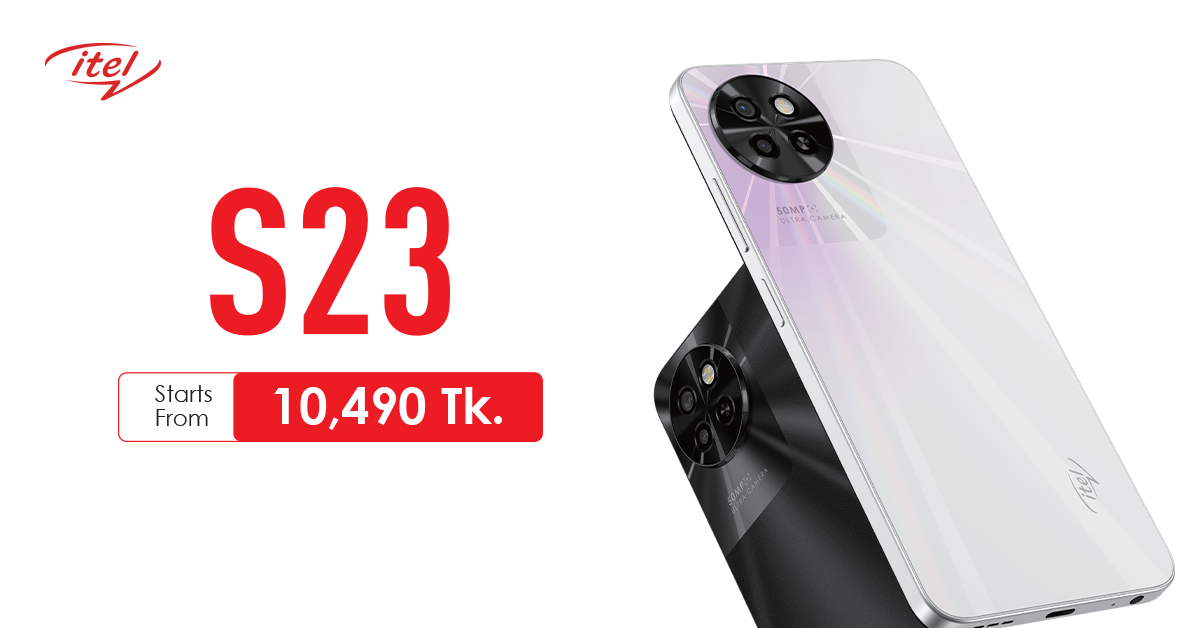 Starting at an attractive price of 10,490 Taka, the itel S23 offers exceptional value for its outstanding features and performance. With its groundbreaking color changing technology and a host of impressive specifications, the itel S23 is set to revolutionize the smartphone industry.
Lean More about itel S23: https://www.itel-life.com/bd/products/phone/s-series/s23
BDPressRelease/ 19 June 2023 /MM  
---