প্রকাশিতঃ ১৬/১১/২০২২ ২০:১৩ পঠিত সংখ্যাঃ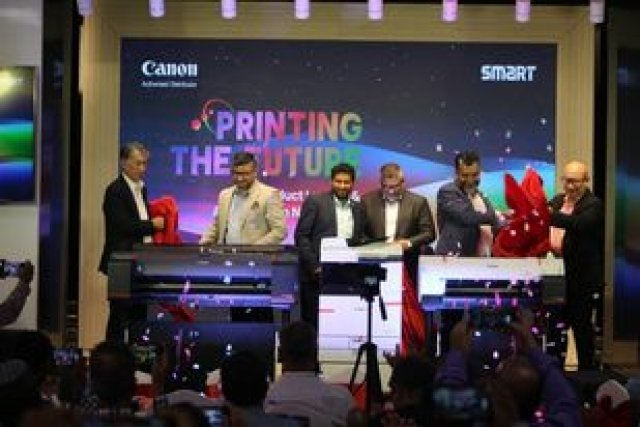 Staff Repoter ::  Smart Technologies (BD) Ltd (STBL) held the "Printing the Future" launch event for Canon products on November 1, 2022, in its auditorium at the rooftop of Smart Jahir Tower. From Canon Singapore Pte. Ltd. (CSPL), Mr. Norihiro Katagiri, Senior Vice President, Digital Printing and Business Solution Operations, and Mr. Jonson Ng, Senior Manager, Canon Business Partner (CBP) Business Promotion Group, were present to unveil Canon's Large Format Printers, the image PROGRAF GP-5300 and TA-5200, and Canon's Multi-function Device, the imageRUNNER 2730i. From Smart Technologies (BD) Ltd, Md. Zahirul Islam, Managing Director of Smart Group, Zafor Ahmed, Director of Distributions , Md. Muzahid Alberuni Suzon, Director Chanel Sales , and Noor Md. Sahrier, Canon Business Head in STBL, joined the unveiling ceremony with the representatives from CSPL.
Mr. Sahrier, Canon Business Head in STBL, said in his welcome speech to channel partners from different parts of Bangladesh, "We have been trying to arrange such a launching program since we got the distributorship for Canon's Multi-function Devices in October 2019. But due to covid pandemic situation, we have delayed the official launch to today. We are committed to deliver high quality services to our customers. Other than high quality services, we endeavor to provide innovative solutions offered by Canon's Multi-function Devices1 as well as Canon's Large Format Printers to all our customers in Bangladesh."
Mr. Katagiri, Senior Vice President of CSPL, said, "Businesses are back in full swing after the last two years of Covid pandemic. Although I am here in Bangladesh for the first time, I am impressed with the resilience of the business community in this country. From the visits to our customers this afternoon, I am positive that everyone is working to move this country forward. I enjoy the hospitality shown during our customer visits. I believe that long-term relationships with our customers will always stay strong. We grow together with our customers through our innovative products and solutions. In this respect, we will continue to invest our resources to grow our business in this country with our partners."
Mr. Zahirul Islam, Managing Director of Smart Group, said, "Canon is a well-known brand in the global market. Canon products are very durable. We have long wanted to become a distributor of Canon. Because such a brand enhances the image of any company and respect. Finally, we got it. We are committed in providing the best services to our customers with Canon."
Mr. Ashraful Islam, Canon Service Manager of STBL gave an idea of the high level of service for Canon products. He said, "we give utmost importance to our clients. No matter how small the problem is, we take every call seriously and have attended to each call within the short time to ensure our clients are able to carry on their work smoothly. Good service and fast response time are what we can deliver to our clients."The event ended with an award ceremony for STBL's channel partners and internal sales force in recognition of their past three years of business contribution to Canon's Multi-function Devices, the imageRUNNER series with STBL.
BDPressRelease/ 16 November 2022 /MM 
---