প্রকাশিতঃ ২৬/০৪/২০১৯ ১৬:৪৩ পঠিত সংখ্যাঃ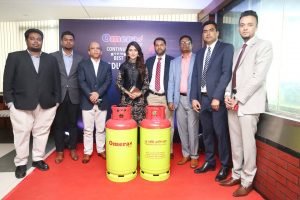 Staff Repoter :: Omera LPG's 25kg cylinders are available in the market from now. On April 25, at an elite hotel in Gulshan-2, Dhaka, the 25kg cylinder was officially inaugurated with an eventful ceremony. Mr. Shamsul Haque Ahmed, Chief Executive Officer of Omera LPG was present as the Chief Guest at the program.
Also present at the occasion were the Brand Ambassador for Omera Petroleum Ltd. & Popular Actress Mehazabien Chowdhury, Special Guest & Former Captain of Bangladesh Cricket Team Khaled Masud Pilot, CEO of MJL Bangladesh Ltd. Mr. M. Mukul Hossain, CFO of Omera LPG Mr. Akter Hossain Sannamat along with Omera Sr. Officials, Representatives and Distributors.
At the press conference Omera Sr. Officials said that the 25kg SKU cylinder of Omera Petroleum Ltd. is now available in the market keeping in mind high consumer demand, ease of usage and handling and the security of the customers. Also, Omera's 5.5 kg, 12 kg and 35 kg and 45 kg cylinders will also remain available in the market.
BDPressRelease/ 26 MM/ April 2019
---